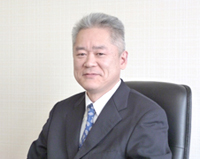 FUJISOFT KIKAKU Inc.
President
Masaru Sudou
 FUJISOFT KIKAKU Inc. is special subsidiary of FUJISOFT INCORPORATED which provides operations in a wide sphere like communication system, finance system, distributive system etc. as Independent IT Solution Vendor.
 Company established as KR KIKAKU LLC. 1991, its name changed to FUJISOFT KIKAKU Inc. 2000, and it was certified as special subsidiary by Japanese Health Minister the same year.
 Main operations are fabrication of all sorts of print like business card,envelope,circular,ticket, pamphlet etc., web creation, update and administration of web, inputting data, administration of web server, inclusion and sealing direct mail.
 FUJISOFT KIKAKU Inc. introduces working environment in which each employee has own PC and flexible working time not core time, arranges working environment in which disabled people are easy to work, and at the same time has every employees hone information technology skill through work every day.
 We always keep reminding ourselves attitude of learning, strengthen service,contribute to the society through work, and we want to build up company where we can work all our lives.

1. Self-reliance and Contribution
2. Company where we can work all our lives