You can see the most recent news and topics here.
You can see Privacy and Information security policy details here.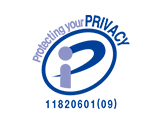 We are a company certified to deal personal information correctly.



We don't know what effects the web can have.
We don't monitor or update our website.
Another company's website looks more effective.
We don't get it at all.
We want to utilize the web to get customers to our company.
We want to use the web for promotions.
We want to enrich our website experience.

We searched through documents all day.
Some past documents have been misplaced.
Filing before and after using a PC are different.
We are worried about divulging information.
We want to utilize resources effectively.
We want to adopt a more creative work ethic.
We work overtime to input data.
The client doesn't remember our business outline.
We don't think we project a strong image.
We can't differentiate ourselves from other companies.
We are not good at branding.
We want to make business card a simple and convenient tool for promotions.
The cost of design is an important factor.
I want to participate in on-the-job training.
I can't find information about job offers for mentally disabled people.
We want to request a lecture about the employment of disabled people.